Posted on: July 18, 2020
Police Commissioner giving new dimension to the Uniform Strategy of Policing.
By Gayathri Vishwanath
Dedicated Policing is the only way to contain Covid -19. This is being proved by the Kerala Model in general and in the Kasaragod model particularly. Police Commissioner Mr. Vijay Sakhare IPS had narrated the success story while he was participating in the Media Conference with Mr. Lal Goel, Chairman of Organ Donation India Foundation and GYAN. TV Show promoted by News Karnataka in collaboration with Village TV, V4News, Malanadu TV, News Gaon Se and Global TV has become a model for potitive media initiatives in the country. Mr. Lal Goel who is the Editor and host of the program make it a point to give a proper hearing for the guests who are in the discussion panel.
Quality of the program has attracted great personalities across the nation and abroad to participate in the program passionately. Guests are also demonstrates mutual respect and appreciation for others and their views. Programs of this kind are very natural to attract large audience.
Our fight is against Covid – 19. We are not against people. This was the message of Kerala Police from the beginning of Lockdown process in Kasaragod which had started few days before the national lockdown. Police had arrested people who were wandering against lockdown guidelines. Vehicles were captured. They have done all these things with smiling faces. Every time they were able to make the people to understand the fight is only against the virus.
Two important services were also initiated by the police for the people. Getting essential goods at their doorsteps and also getting them medicines. A simple whatsApp message was enough to reach the police control room and every requirement were met within three to four hours. Passionate service of police had made people to admire them for their selfless services. Celebrities had joined in the campaign. Everyday detailed press briefing was educative. People started lining up with the policing process.
Along with all these supportive, strict and caring measures, professional policing also were done in a more enthusiastic way. Every person who had come to Kerala from other states was identified and was strictly quarantined. Urbanised society of Kerala had helped to monitor many movements through the cctv cameras spread all over in the streets. People with COVID Possibility were given proper alert and instructions to follow room quarantine. They were educated not to spread the virus and were told about the possibility of a community spread.
Knowledge of police in organising VVIP Security and their traffic control expertise all were employed for the containment of the virus. All these efforts had transformed the out casted Kasaragod District into a respectable status. International Media started praising about the Kerala Model.
While praising this noteworthy achievement the Editor Mr. Lal Goel was curious to know about the reasons for many other places that are not able to follow the proven model of Mr. Vijay Sakhare IPS. There is no rocket science in it was the reply from Mr. Sakhare. Success is all in the sincerity and dedication in the approach of responsible people. Coordination of various departments and large participation of people can contain COVID in 14 days' time at any place.
Let us hope the passionate and compassionate model of Mr. Vijay Sakhare to become Vijay Mantra for entire India and the world at large. Let the people take care of themselves not to cause a social disaster. Watch the Video below to hear the beautiful conversation.
Naughty Note: Can this be a model for Arnab to transform his show into a respected program?
TRIPLE-LOCK STRATEGY FOR CONTAINMENT OF COVID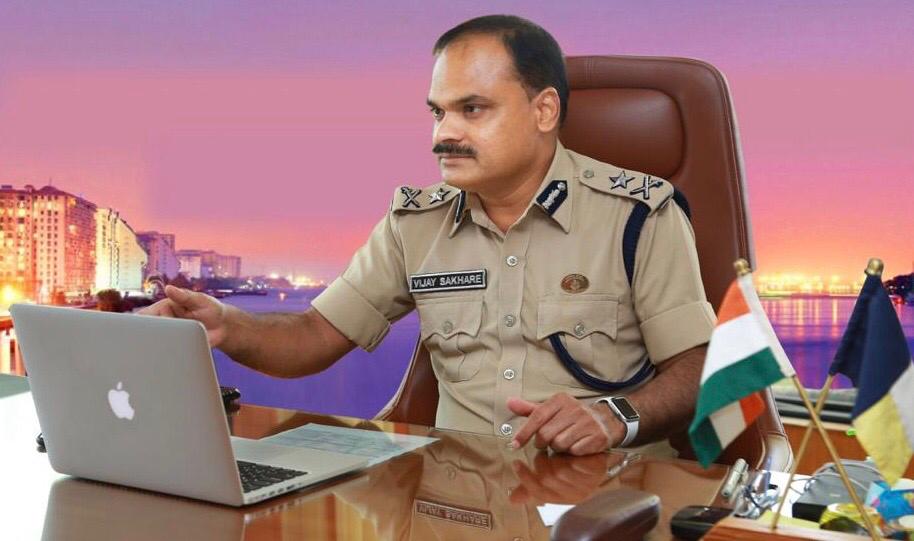 -What is Triple-Lock Strategy for containment of COVID, where it was implemented, whose brain child and what is success rate
-To know the answer first we have to look into few facts
-The first positive cases of coronavirus in India were reported from three students of Kerala origin, travelling from the Wuhan province of China
-They belonged to Thrissur, Alappuzha and Kasargod districts of Kerala and two of them were medical students at a university in Wuhan
-In Kerala The number of active cases initially peaked at 266 on 6th April before declining.
-As of 17th July in Kerala there have been 11066 confirmed cases with 4995 (48.51%) recoveries and 38 (0.37%) deaths in the state.
-Kerala's success in containing COVID-19 has been widely praised both nationally and internationally
-Yes we are talking about the success story of Kerala where this triple-lock strategy was first introduced at Kasaragod district
-Till date In Kasaragod total positive cases are 785 recovered 481 & not a single death
-The brain behind this strategy is of one very senior police officer who was posted at Kasaragod as special officer for COVID-19
-He is none other than Mr Vijay Sakhare IPS
Mr Vijay Sakhare IPS
-Is the Inspector General of Police & Police Commisoner of Kochi
-Is Chief Archtect of 'triple-lock' strategy for containment of COVID which he has successfully implemented in Kasaragode and Kannur Districts of Kerala
-The strategy has caught national and international attention as it happens to be the only intervention in the world which has successfully prevented spread of COVID-19 virus.
-Mr Vijay Sakhare has started his career as Assistant Superintendent of Police in Kasaragode, Kerala in 1998 and served as Commissioner of Police and Superintendent of Police in several districts in Kerala
-He has a singular distinction of working with two different state police forces, Uttarakhand and Kerala, as the senior Superintendent of Police.
-As Deputy inspector General of Police, He has worked in Border Security Force, protecting our western border.
-He has led prestigious G-Branch in intelligence and credited with enhancing security co-operation with our eastern Neighbours, especially Bangladesh.
-He is credited with setting up Vigilance Directorate in Central Armed Police Forces.
-In Kerala, He has held charge of prestigious Central Range of Kerala Police and have the singular distinction of being the First IGP and Commissioner of Police of Kochi.
-Mr Vijay Sakhare is IPS officer of 1996 batch. A postgraduate in Design engineering from IIT Delhi
-He has acquired post graduation in Radicalization and Counter-Radicalization from King's College London, Post graduation in Information Security and MBA in Finance.
-Few of his achievements beyond day to day professional policing are:
Creating and Establishing Communication Backbone for fast and secure information exchange among various offices of Kerala Police in 2003. It was first of a kind in India.
Establishing first IT based Control Room and Remote Anti-Burgalar Alarm System in Kerala.
Established first Wireless based Vehicle Tracking System.
Created network for connecting all Police Stations.
Established unique petition enquiry system.
Created 'LifeLine' for traffic safety.
Established Geographical Information System in Border Security Force for effective operation planning, execution and review.
8.Established first Internet and Social media monitoring System and predictive intelligence System.
-He is a Recipient of Special award for outstanding contribution to Policing from the Prime Minister's Office Malaysia.
-He is a Recipient of CM Kerala's Commendation for Use of IT and Modern Technology in Policing.
-He is a Recipient of several commendations and recognition for special contribution to professional policing by Home Minister of Kerala
-He is a Recipient of numerous awards and Commendation from Govt of India for singular contribution to intelligence collection and fostering greater cooperation between India and Bangladesh
-He is a Pioneer of Community Policing. Successfully implemented 'Jagrath', a Community Policing initiative before inception of 'Janamaithry.